Have you seen our brand new range of outdoor wood paint? Adding a splash of colour to your garden has never been more popular. There's a huge variety of great quality paints available – that's why we've partnered with Thorndown paints to bring you top quality eco paints at affordable prices.
Thorndown is a specialist manufacturer whose range of wood paints are water-based and non-toxic. Unlike oil-based paints, they are coloured using raw materials that have the lowest possible level of volatile organic compounds, making them better for the environment. Sustainability is important to us, we sell FSC Certified products ourselves, so it made sense to partner with a company that shares our values.
We've got a wide range of colours available to order online for home delivery now.

How can I use paint in my garden?
Looking for inspiration? Our range of wood paint is suitable for many of our products including fencing, furniture and garden buildings. As far as trends go, grey paint remains the most popular exterior colour nationwide, but there are no set rules on what colour to choose. Be as subtle or as daring as you like – just try not to upset the neighbours!
What colour should I paint my shed?
We often overlook sheds, seeing them as just a practical storage solution, but a well-built great looking garden building like a pent, apex or potting shed can be a really attractive feature in a garden. One of the quickest ways of making a difference in your garden is by giving your shed a lick of paint. Our new range of UK Garden Building sheds are supplied dip treated but will need further painting if you want to preserve their high-quality finish and prevent rot or mould.
Our new range of exterior paints includes more traditional and natural colours. But if you're looking for something a little different, a calming, subtle green or blue like our Peregrine or Goblin Blue are light and bright without being too cold. These paint colours can turn a well-built, attractive shed into an eye-catching focal point.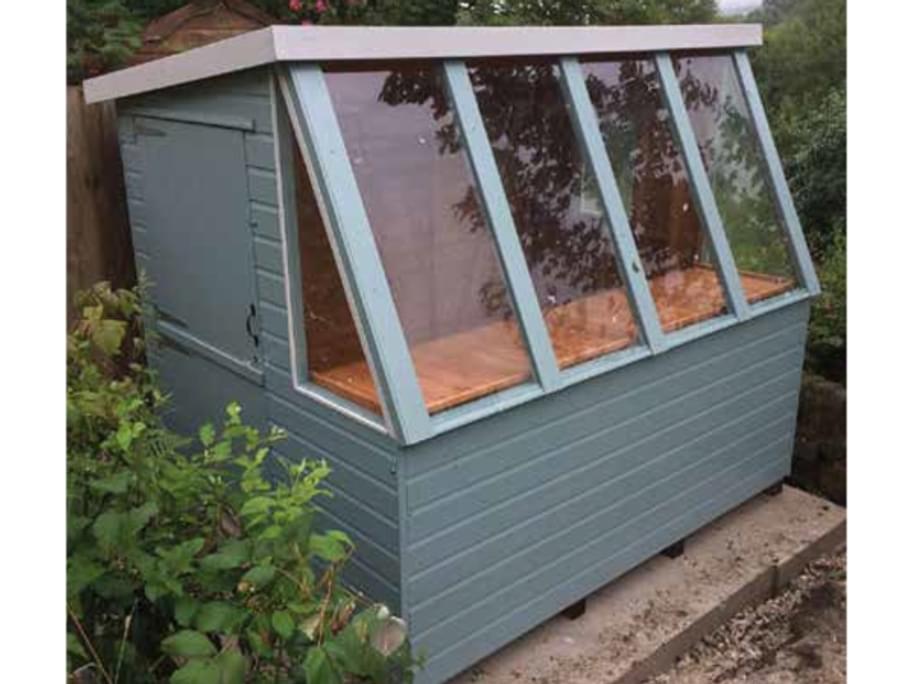 Style it dark – painting fence panels in dark grey tones
Darker shades are proving very popular in gardens this year. Dark tones such as Anthracite are sure to bring your outdoor space right up to date.
The burnt timber look is also still popular with designers which has probably prompted the trend for painting exterior timber in darker colours. Painting fencing and other timbers in these darker tones of wood paint is an affordable way of recreating the look and it will give it long-lasting protection from the elements.
You can achieve a striking contemporary feel in your garden by painting slatted fence panels dark and then pairing them with something like slate aggregate. Alternatively, focus on smaller focal points like raised beds and sleeper structures. Don't forget, if the solid matt look feels like a bit too much, you can always water the paint down to create a stain finish.

Paint timber to create a garden getaway
We're spending more time than ever before in our gardens so it's important to make it a place that you love. Is there a holiday that you still think about? Find yourself back in Greece with Adonis Blue fence panels, take a trip to Morocco with a bright orange trellis or pay homage to the Great British seaside with a beach hut inspired garden building. Colours can trigger all kinds of good memories and help create a relaxing place to escape to. Take a look at the full-colour range to find shades that appeal to you.
Exterior wood paint is often overlooked when we're planning our outdoor space, but it can be a quick and easy way to zone areas of your garden. Think, sophisticated wood paint colours like Greylake, Tor Stone or Sage for dining or seating areas where the grown-ups can relax. Then, add an exciting pop of Goblin Blue or Yellow Rattle by the sandpit, or even take a picnic bench and paint each section in contrasting vibrant colours to create something playful!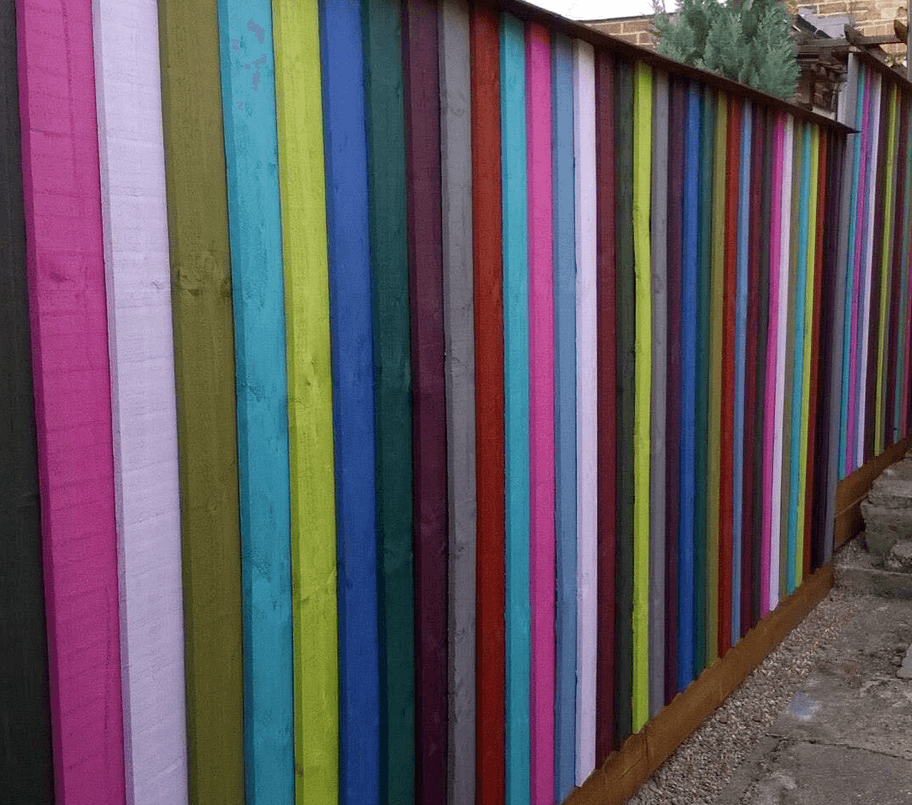 Dare to be bold with your exterior wood paint!
Of course, there will always be a place for the classic colours and we're still fans of tones like Hazel or Rowan. But at the end of the day, a garden is an extension of your indoor space, so if you're a fan of colour, don't feel like you need to tone it down outdoors.
As we've said before, fence paint can be an effective way of brightening up shady gardens and yard areas. Choose one colour for all, alternate tones across fence panels or, if you have closeboard fencing – consider painting each board in a different colour for something truly unique.
Add a splash of colour and vibrancy to your outdoor space with our new range of outdoor wood paints.