Landscaping using sleepers is a classic choice for any outdoor space. Although, this year, the focus has been on achieving a more natural look in your garden meaning sleepers will be more popular than ever. Here are some great ways that you can use sleepers in your garden.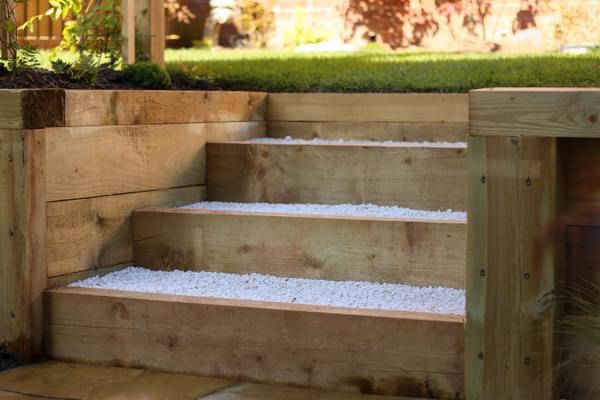 Sleepers can be a quick and easy solution if you're planning on building garden steps. Railway sleepers are sturdy and, if they're good quality like those that we sell, they'll be pressure treated which means that they're manufactured to last.

Simple for a qualified installer or a skilled DIYer, you can choose to lay them flat to create a solid timber tread, or place them on their side and place gravel in the gap as is shown here. If they need to be cut to size they should be re-treated before being placed in situ. Never place a cut end or edge in the ground without re-treating first.
Sleepers are perfect for creating traditional raised beds and there's no arguing that they also look absolutely fantastic. They're a practical choice because they can be pre-cut to fit the exact size you need and you can build them as high as you need to. Here you can see how they create clean lines and structure on what would have been quite an unsightly slope.

If you're building a raised bed to grow food crops, be cautious about using reclaimed railway sleepers. These older used sleepers are more likely to contain hazardous materials.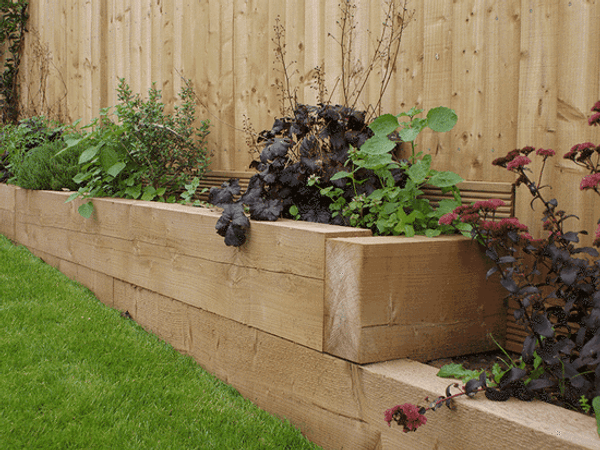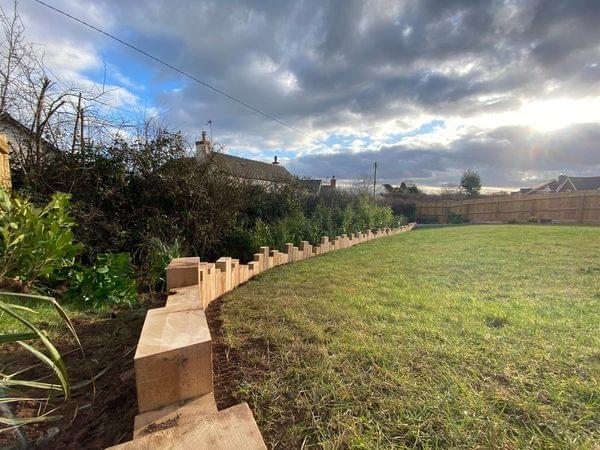 Project by JH Landscaping
It is becoming increasingly popular to use sleepers as vertical edging. They can be placed along borders at equal heights or at varying heights. Opting for varying heights can be a good solution on uneven ground because you don't have the added pressure of having to get all the sleepers even.

How high you set your sleepers is entirely up to you but we'd advise choosing shapes and structures that are practical for the space you have. So for contained areas, you might want to choose simple, low sleepers and in larger spaces, you can go for more dramatic varying heights
Using timber sleepers to create terrace areas can be a great way of making the most out of your sloping garden.
You can use the sleepers to box in large sections of earth and these can be multiple sharp shallow sections or larger terrace spaces with longer drops. The style and quality will depend on the type of earth you're dealing with.
By taking this approach to landscaping your sloping garden, you can better utilise and plan your space. Consider an area of decking or patio, fruit or vegetables, wildflower and shrubbery – there are multiple possibilities.
More and more we're seeing sleepers used to make garden furniture. It's a solid, hardwearing choice that looks absolutely fantastic. Our sleeper seat continues to be a popular choice year on year.

Less cumbersome than some of the other sleeper furniture more widely available, its beauty lies in its simplicity. Again made from pressure-treated sleepers, it's supplied flat packed with fixings and is easy to assemble at home.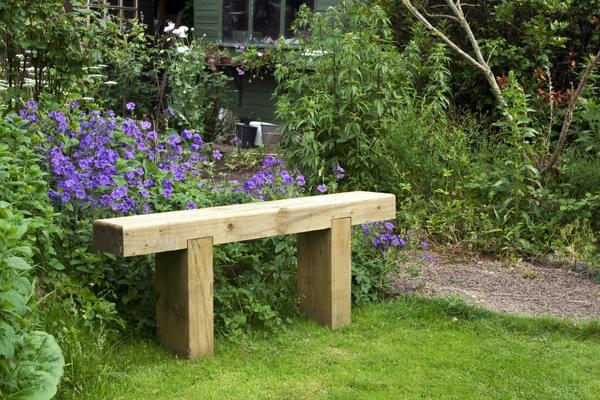 Are you feeling inspired to use sleepers in your next garden project? Our timber sleepers are pressure treated to last and are available in two different sizes. You'll find our traditional Sleeper Seat over with all of our other quality timber garden furniture.