As we begin to approach the autumn months you may be wondering how well your garden will withstand the stormy weather. To put your mind at ease and to help you prepare as best you can, here are some tips to help you protect your garden and fencing.

How to prevent your garden from debris and water damage
Fallen debris is one of the biggest nuisances many of us have to deal with. Although fallen debris during a storm may not instantly cause damage to your fencing, the remaining water content it holds can encourage wood decaying conditions. To avoid this, we recommend regularly removing the debris yourself.
Timber treatment such as a wood stain or paint is also a great way of preserving and protecting your fencing, to help ensure it looks great all year round and stays in the best possible condition. As well as the recognised brand stains, we also stock Thorndown Paints, an eco-friendly range that is available in over fifty different shades or colours – so you'll be sure to find something to suit your exact taste!
If, however, after inspection you've found that stormy weather has damaged your fencing beyond repair, you'll probably want to replace it with more robust fence posts, fence panels and gravel boards. It's important to remember here that not all fencing suppliers stock the same quality of products – take a look at our PermaTimber® process to get a better understanding of what sets our fence posts apart. Then, browse our wide range of of fence panels which are pressure treated and sold with a 10-year guarantee to give you peace of mind that your fencing has been manufactured to last.
And when finishing your fencing project timber gravel boards are a great way of keeping the panel itself out of contact with the ground and therefore prolonging its service life.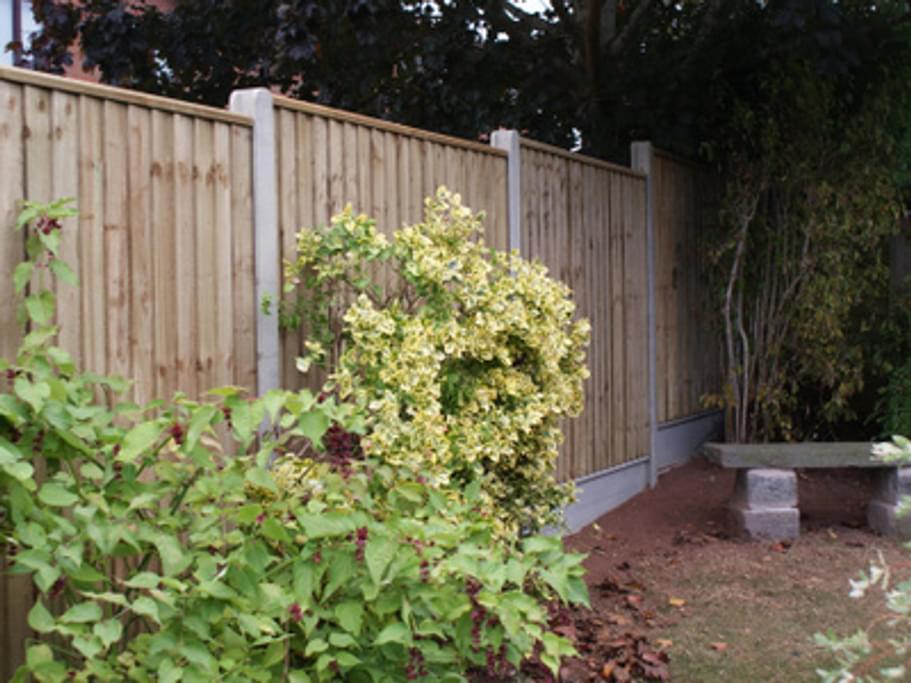 How do I protect my garden from wind?
When installing your fencing we advise that your fence posts are at least 600mm deep in the ground, and even deeper for taller fences. This means that your fence will be sturdier and have the best chance of withstanding strong winds. If the fencing you currently have installed is not as sturdy as you'd like – making it susceptible to wind damage, we have a team of trusted tradespeople who can install quality fencing that is built to last.
As well as quality timber fence panels, closeboard fencing can provide a very robust solution.The posts and rails tend to be of a heavier construction and more can be added if it's deemed necessary . An expertly constructed, pressure treated closeboard fence, complete with PermaTimber® posts, capping rails, and gravel boards will stay sturdy and strong for years to come – particularly if it is regularly maintained with a quality timber treatment.
A strong and well-secured gate will withstand windy weather better. There are countless designs to choose from whether you need a double entrance gate for your driveway or a tall side gate to increase security. Be sure to look for pressure treated products to ensure that the gate will withstand fungal decay.
Above all, you should choose the best quality fittings to ensure that your gate stays put. We've supplied quality gates for decades so we know a thing or two about selling fittings and accessories that last – if you need help choosing the ironmongery for your garden gate, get in touch with our team who will be only too happy to help!
And finally, no great British storm is complete without the odd flying bin – so secure yours in place with our ultra-smart, pressure treated and robust wheelie bin storage. Our full range of garden storage is complimented with a matching quality compost bin and log store. This means that your garden will not only be secure, but it will appear less cluttered and look great too!

Get ahead of the windy weather by exploring our full range of fencing products today.