Decking can be a useful tool in garden design because it is so versatile. You can use it to level out uneven ground to make it usable or to create different zones in your garden. If looked after properly, a high-quality timber deck can last for many years. It is very important that you maintain it though to keep it in the best condition. Try to treat your decking once a year to keep it looking great.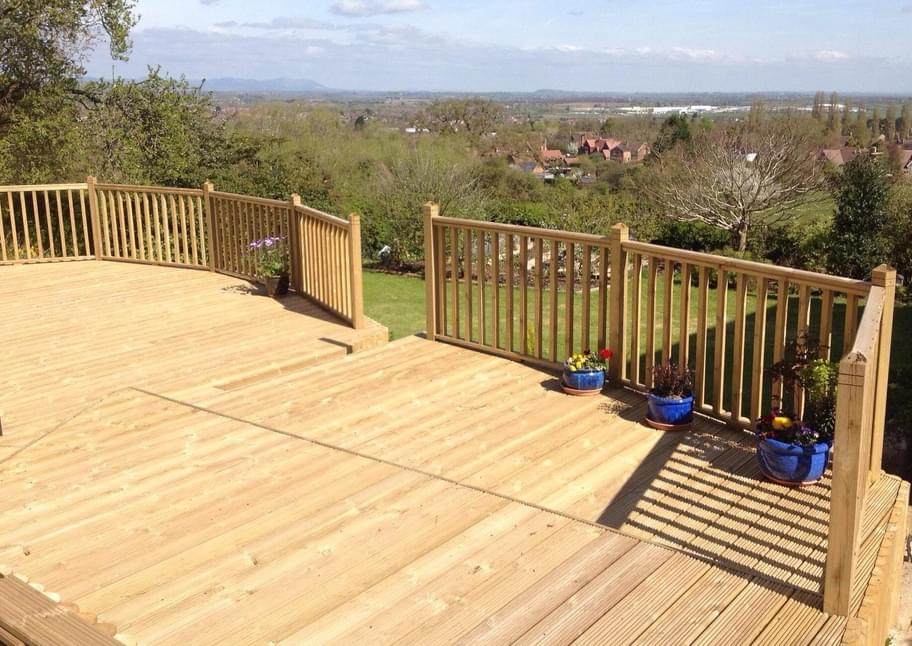 How do I look after decking?

If your decking is brand new, we'd recommend cleaning it down with a specialised product after giving it six months or so to weather properly. There's nothing wrong with using a cleaning product on older decking, you might choose to do this anyway if it has aged and it is in need of a good clean. There are plenty of suitable products on the market these days.
Use a good quality oil to treat your decking, such as Ronseal decking oil – a slightly tinted product. You will find it is scuff-resistant and it will form a waterproof barrier to protect against weathering. It will also prevent any warping and swelling as well as drying and splitting. A good decking oil will also advertise the fact that it resists mould and algae growth. Look out for a product that is fade resistant and protects against UV rays.

What you'll need to clean and stain your decking:

Decking oil

Roller with extension handle

Paintbrush

Stiff garden broom

Decking cleaner – if needed

Stiff scrubbing brush for cleaning – if using
How to stain decking
Firstly you need to make sure that your decking is free from dirt, dust, fallen leaves and things like algae. Brush down the area with a hard-bristled broom.
If you are using a decking cleaner, most products will ask you to pour the solution straight onto the deck. Next, work in the solution with a stiff scrubbing brush. It will then usually need to be left for about

15

 minutes.
For best results, wash off with a pressure washer. If your decking is older, be careful of the setting you use to avoid splintering any part of your decking. This is unlikely to be a problem if you purchased a high-quality product and you've been careful to maintain it. If you don't have a pressure washer you can use a hose.
Once dry, you are ready to apply your decking oil. We like to use a roller to begin with but you may want to use a pad or a soft-bristled sweeping brush – it's really a matter of personal preference. Remember to stir your decking oil thoroughly before using it.
Apply the oil to your roller and be careful not to overload it with the product. Then start in a far corner, treating around four boards at a time, moving in a backwards and forwards motion in the direction of the wood grain.
As you go along, you may wish to use a paintbrush between each board to pick up any excess oil and catch areas that you may have missed. Repeat this process every four boards.

Most oil treatments recommend at least two coats of product – don't forget to check the tin for the exact drying time between coats. It's best to treat your decking on a dry day but not in direct sunshine. While dry decking soaks up more of the oil, treating in the midday sun will lead to evaporation, creating twice as much work.

If you're looking for someone to treat your decking or you want to fit brand new decking in your outdoor space, why not get an affordable quote from one of our highly experienced and skilled tradespeople over on our installer network.