People often believe that to have a secure garden, you have to compromise on appearance. But, with the wide range of beautiful timber products we have available, this is simply untrue. Here are our product recommendations and tips for keeping your property secure and looking fantastic all year round.
Great looking, secure timber fencing
High-quality fencing is one of the most effective ways to keep your garden secure, especially if you have pets. Our timber fencing comes in a variety of heights ranging from 0.9m to 1.8m, so you can purchase the perfect size of fencing depending on what you are looking for. We also offer bespoke sizing on some of our fencing – if this is something that you are interested in and want to learn more about, then give us a call.
If you have a larger pet, trellis panels can be another effective way of keeping your garden secure while creating an attractive, natural-looking barrier. The gaps in this type of fencing offer a fantastic way to showcase climbing plants such as berberis and osmanthus. You can also add trellis to the top of your current fencing if you need to add height, but keep in mind that anything above 6ft is likely to require planning.
For a shorter style of fencing, choose pointed-top-palisade fencing. It is great for deterring anyone from entering your property and it looks stunning. It is an especially popular choice for front gardens but it is also fantastic for securing ponds and other risky areas without compromising your view.

Gates
Our excellent range of timber gates are also a good addition to help secure your garden. Keeping your gate locked when you're away or during the night is an effective way to deter anyone from entering your garden. It's also a practical way of containing pets in the garden, so you can let them play freely.
Did you know that we also offer a wide range of driveway gates ranging from contemporary to traditional to ensure that you can keep the whole of your property secure regardless of its size?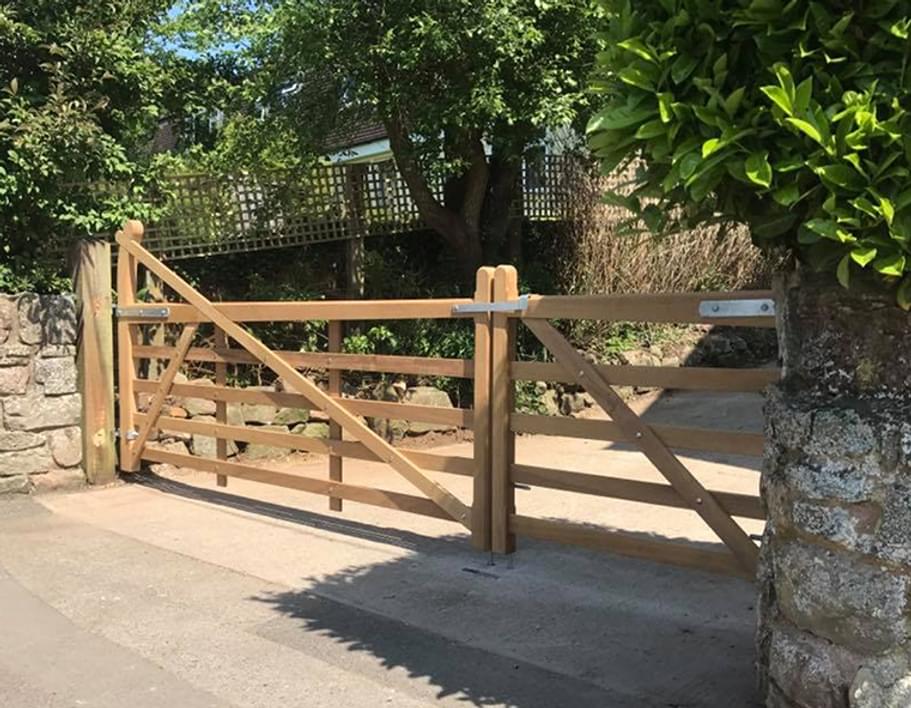 Storage
Our sheds are also a great and practical way to keep your pets safe from hazards in your gardens, like fertiliser or tools. Available in a diverse range of styles and sizes, including Feather Edge, Premier Apex Building and Pent Buildings, our sheds are designed to keep your belongings safe and dry.
Our Premier range of sheds are lined with Tyvek Housewrap to help prevent water ingress, which means they are built to last and look excellent all year round. Our side panels are constructed from heavy-duty pressure-treated shiplap and framing, and the roof felt is heavy-duty and long-lasting.
Did you know we have an installer network specifically designed for the installation of our products? If you are wanting help with the installation of your products, get in touch with us on 01989 563614 to tell us about your project and to see how we can help you.